Totally Radio 80s
Online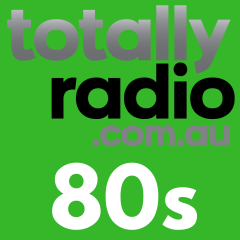 ---
Playlist

Simple Minds - Alive And Kicking
Bananarama - Na Na Hey Hey (kiss Him Goodbye)
Joan Armatrading - Drop The Pilot
Tina Turner - The Best
Hall & Oates - Maneater

Top Songs

1

Bangles - Eternal Flame

2

Chris Isaak - Wicked Game

3

George Michael - Faith

4

Eurogliders - We Will Together

5

Inxs - Never Tear Us Apart
About
Totally Radio 80s is an Australian station available online in all states of Australia. The radio station is owned by Totally Media Pty. Ltd. and broadcasts music from the 80s without interruption for news, weather and DJ performances.
Slogan: "Australia's 80s Hits"
Language: English.
Format: Classic Hits, Oldies, '80s.
First air date: 2016
Owner: Totally Media Pty. Ltd.
---
Radio frequencies
Totally Radio 80s broadcasts in different cities online:
All states and territories of Australia
Reviews about radio station